UAV and Lidar are a natural pair from Australia's fire
Author: Neuvition, IncRelease time:2020-07-21 10:32:40
Introduction:
Starting in Australia in July 2019, it spread swept into 2020, when smoke billowed, visibility in the human eye was extremely low, search and rescue efforts were difficult, and although Australia's firefighting system was world-class, it could not withstand global warming and dramatic climate change. UAV for fire and disaster relief is not the first time, the country's most famous large-area UAV sold at home and abroad, countries also mentioned the current use of large-scale UAV for disaster relief and rescue and other tasks. UAV, in short, the use of radio remote control equipment and their own program controls to operate unmanned aircraft, is also a major area of civilian is aerial photography, compared with manned aircraft, UAV are more suitable for dangerous missions, one of my most admired positions are firefighters, each mission may be the last, I hope they can go home safely every time.
Challenges:
In the event of a fire, most of the time the visibility of the human eye is very low, the thermal function is reduced, if the use of human search and rescue, not only reduce the efficiency, but also increase the risk of firefighters search and rescue personnel.
Main product:Titan M1 
Solution:
Titan M1 has a 480 line scan harness, for the current known commercial lidar, the product has the highest resolution, effective ranging up to 200 meters, and the product has increased video fusion function, in the scanning at the same time, not only can output traditional point clouds, but also output with real RGB data point clouds, improve search and rescue efficiency, reduce personal risk. The combination of UAV and lidar allows you to see the environment under the smoke. As shown in the figure: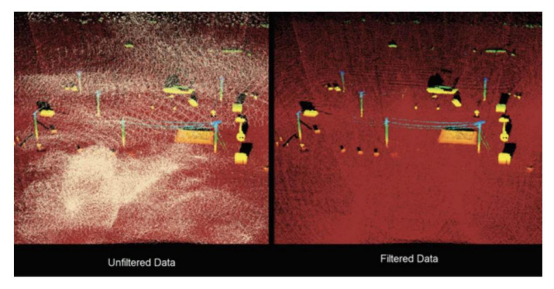 Advantage:
(1) Cost-effective, compared to conventional mechanical Lidar, The solid-state Lidar life of More than 50,000 hours.
(2) Easy to install, support situ with Windows and Linux systems.
(3) The higher the resolution, the higher the leakage rate, the rate of misdetection is greatly reduced.
---