LiDAR Solutions for Rail Safety
Author: Neuvition, IncRelease time:2022-09-29 09:00:11
Founded in 2016, Neuvition Inc. is an innovative company providing high-quality LiDAR sensors, LiDAR software, and LiDAR solutions to global customers! Neuvition team has a lot of LiDAR solutions for different scenarios. Among them, LiDAR-based rail safety solutions are the most welcomed by our clients. Today, we will share some of our customer cases and rail traffic solutions with you.
Success Use Cases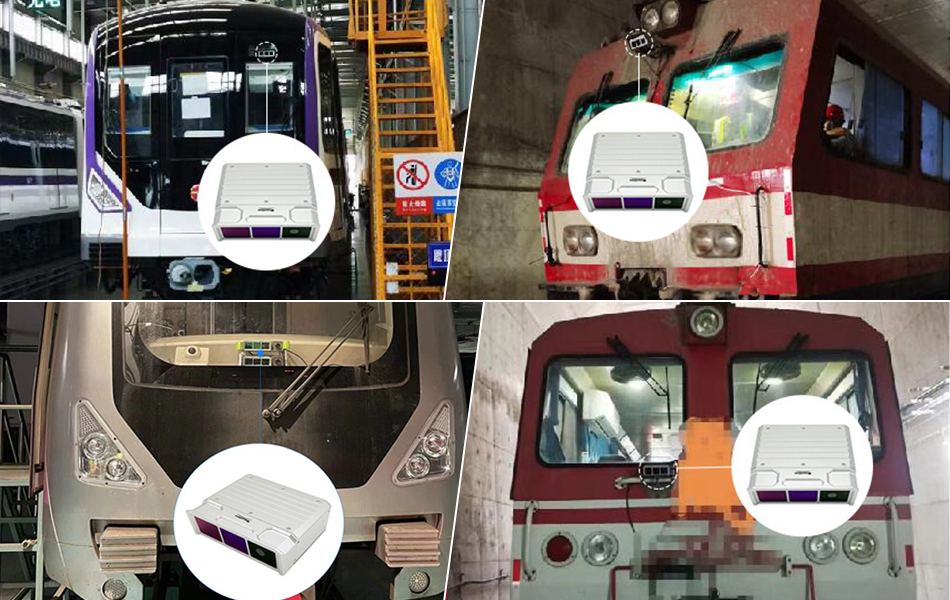 The above use case photos are shared by our customers who apply Neuvition LiDAR on their rail projects to improve rail traffic safety. the application scenarios include front intrusion detection, foreign object detection of intercity railway train screen doors detection, rail overhead lines inspection, rail foreign object intrusion detection.
This is one of success use cases in that Neuvition LiDAR provides real-time tunnel information through the LiDAR point cloud and HD camera for tunnel scanning, track recognition, intrusion detection, and forward collision avoidance.
LiDAR-based Rail Safety Solutions
1. Titan M1-R LiDAR Field Test of Railway Detection
This is a field test that our client is testing Neuvition Titan M1-R LiDAR in railway ADAS application! Titan M1-R can accurately detect smaller objects in a longer range.
With a resolution of up to 700 lines and an angular resolution of 0.01°, Neuvition LiDAR can effectively detect 600 meters, and meet the needs of faster measurement speed and higher measurement accuracy (up to ±2cm). It meets the railway department's requirements for vibration, radiation interference, different environmental temperatures, and humidity, electromagnetic compatibility, etc.
2. LiDAR-based Rail Traffic Track Safety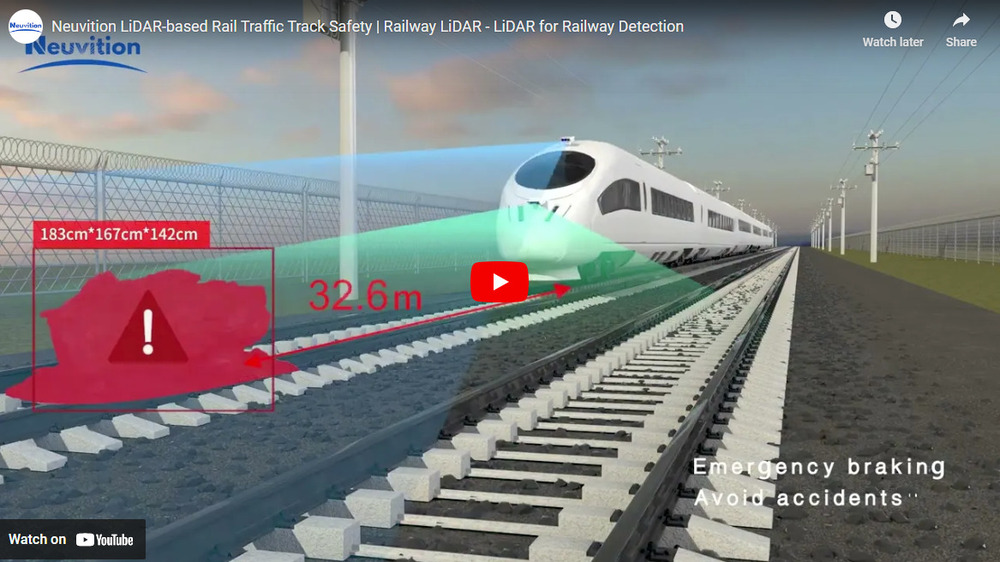 In this rail track safety solution, two LiDARs are used: Titan M1 is for the near-field foreign object detection with a wider FOV, while Titan M1-R is for the long-range detection up to 600 meters.
Neuvition LiDARs can monitor in real time whether there is any foreign object (static objects or running animals) on the track in front of the moving train. Through LiDAR 3D point clouds and advanced algorithms, the early warning of FOD can be issued in time to avoid collision accidents.
3. LiDAR Detection for Subway Safety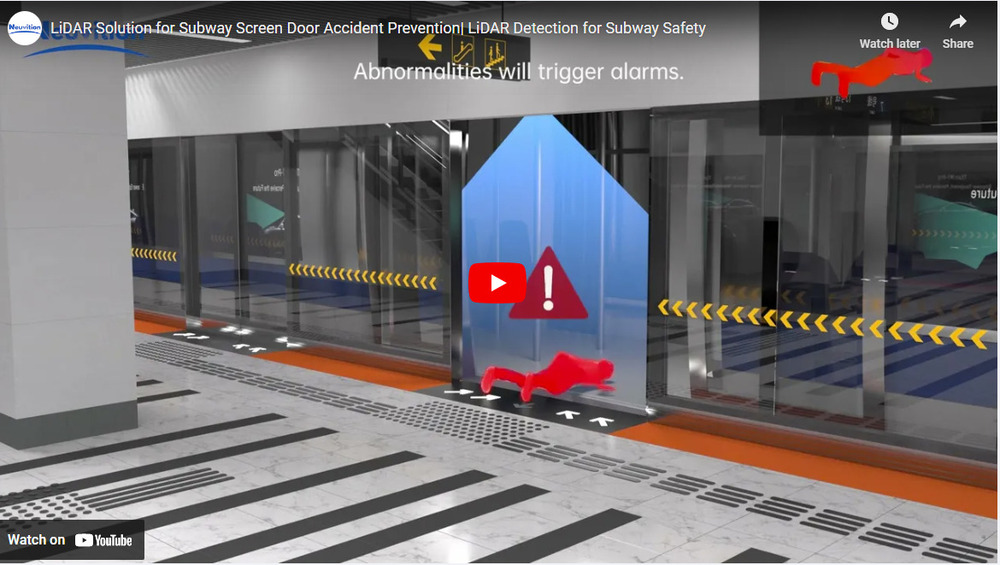 In this solution for subway screen door accident prevention, LiDAR is to detect whether there are any abnormalities when passengers pass through the LiDAR scanning area at the screen door. LiDAR can detect a trapping event, fall, or other abnormalities when passengers pass through the scanning area at the subway platform screen door. If abnormalities are detected, it will trigger the alarm to stop the train from running and prevent accidents.
4. LiDAR-based Train Detection System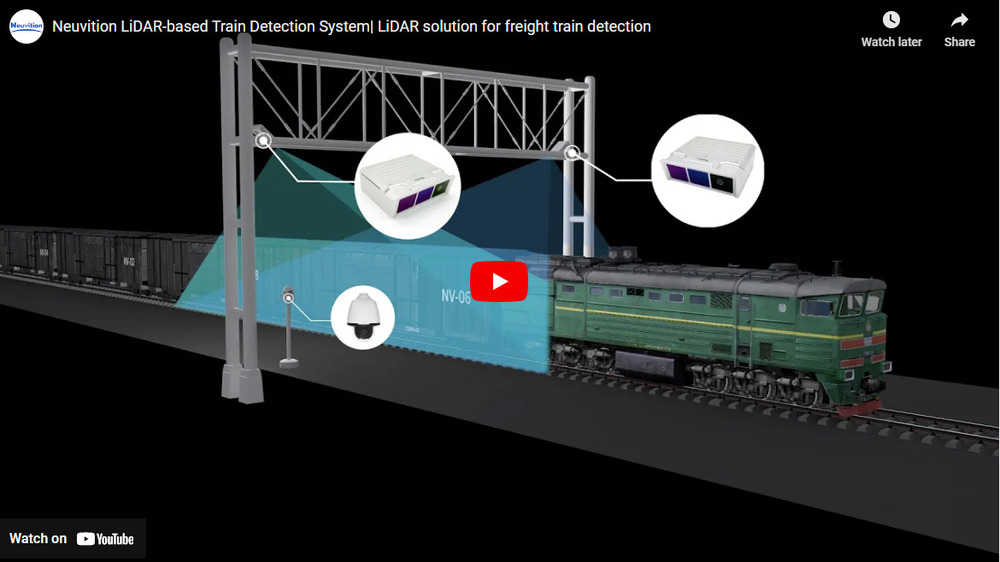 Neuvition LiDAR-based Train Detection System makes an innovative combination of dual LiDAR + high-speed camera video sensor to achieve effective coverage of point cloud collection on a large scale. The System can realize train compartment number recognition, train unbalanced loading detection, compartment volume ratio calculation, etc.
5. LiDAR-based Culvert Anti-collision Warning Solution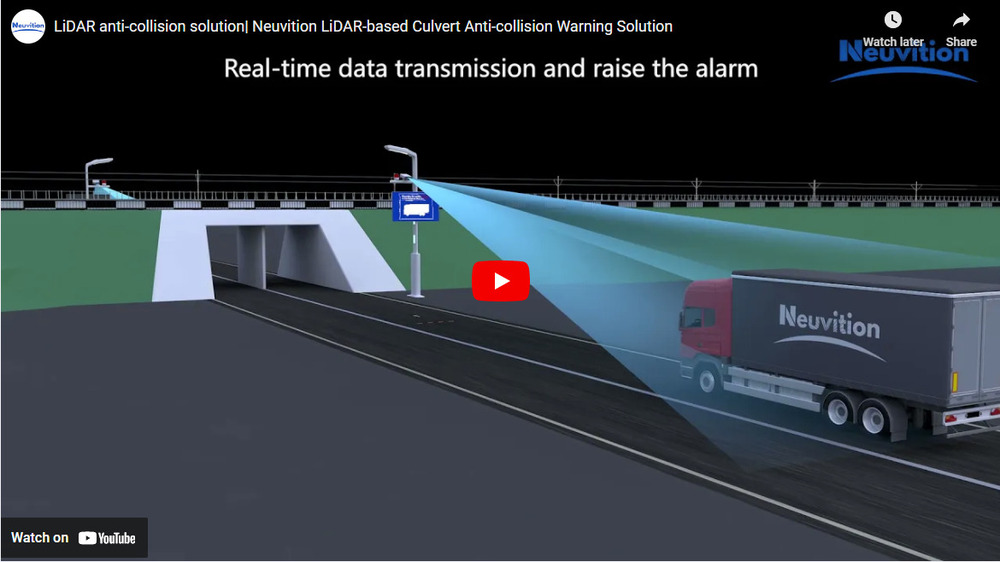 In this Culvert Anti-collision Warning Solution, Neuvition MEMS LiDAR can detect the moving truck's dimensions. When the truck's dimension is beyond the culvert size, the truck is not allowed to enter the culvert to prevent a collision accident.
If you are interested in Neuvition LiDAR solutions or you would like to customize solutions specific to your rail-related project needs based on LiDAR, please contact us at contact@neuvition.com.
---