Railway Transportation Solution: LiDAR for Railway Tunnel Entrance Intrusion Detection Solution (Part 3-Case Study)
Author: Neuvition, IncRelease time:2023-09-27 10:05:20
In this article, we will make a case study about Neuvition LiDAR technology successfully applied for tunnel entrance intrusion detection in railway transportation. The real-time intrusion monitoring system at the entrance of the Guiyang-Nanning High-speed Railway tunnel is another successful application case of Neuvition LiDAR, which ensures the safety and reliability of railway operations through the use of lidar, camera multi-sensor technology, and data analysis.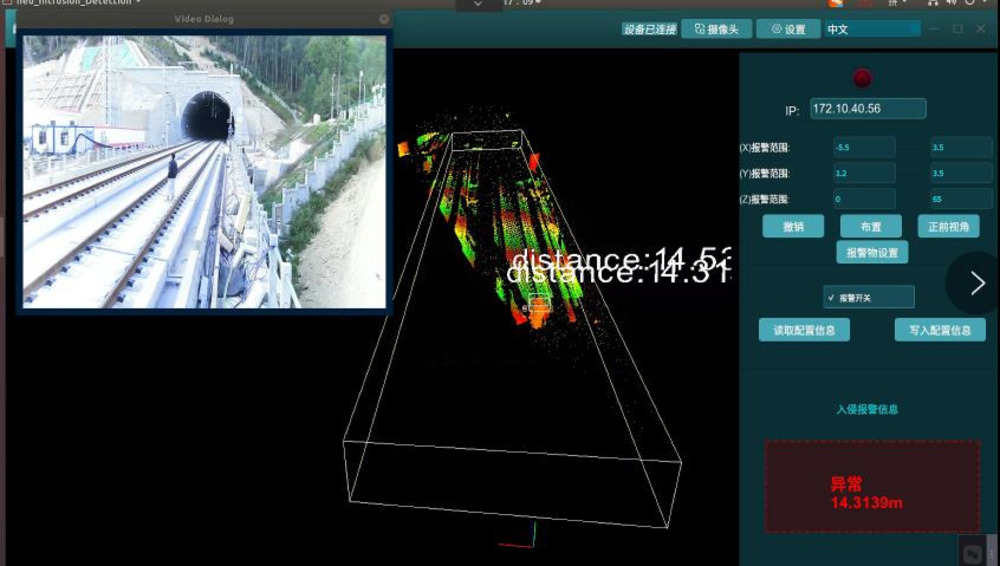 System Screenshot
Background:
The Guiyang-Nanning High-speed Railway is an important high-speed railway connecting Guiyang City in Guizhou Province with Nanning City in the Guangxi Zhuang Autonomous Region. It is also an important framework of the "Baotou (Yinchuan) Hainan Channel," one of the main channels in China's Mid- to Long-Term Railway Network Plan (revised edition 2016). This railway is the first high-speed railway with a speed of 350 kilometers per hour in Guangxi and Guizhou. Due to the complexity of the geographical environment and climatic conditions, landslides, and foreign object intrusion at tunnel entrances pose a threat to railway operation safety. Therefore, a monitoring system is needed to detect and alert potential risks in a timely manner.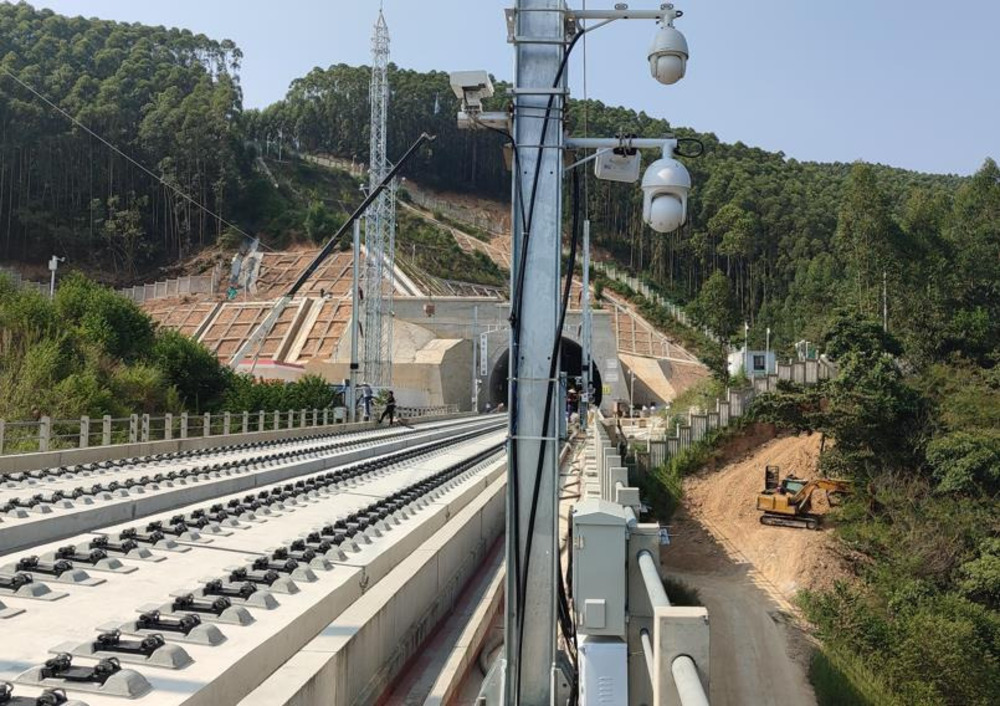 Site Photo
Challenges:
1. Complex geographical environment: the Guiyang-Nanning High-speed Railway passes through mountainous areas and hilly areas with complex terrain, making it prone to geological disasters such as landslides.
2. Diverse and complex intrusion: tunnel entrances are susceptible to foreign object intrusion caused by human or natural factors. Real-time detection and early warning of potential risks are needed to prevent misjudgments that may affect train safety and normal operation.
3. Real-time detection with linked warnings: in addition to accurate judgments, warning information needs to be sent promptly to terminal systems for linked alerts with other warning systems, prompting management personnel to take emergency measures.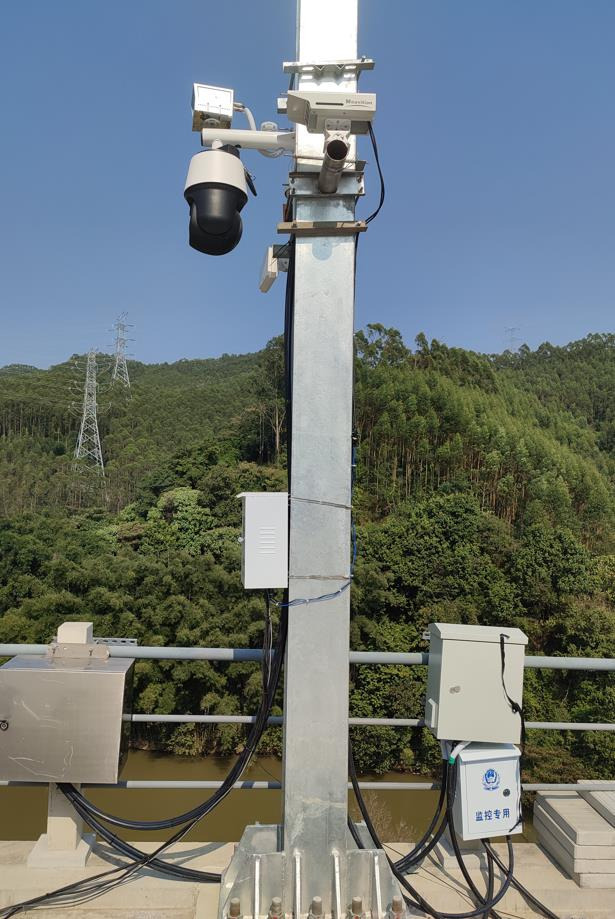 Solution:
LiDAR sensors and autodomes are installed on the top slope surface at tunnel entrances for monitoring geological conditions and foreign object intrusion. The on-site edge processor performs real-time analysis of sensor data and generates warning signals when abnormal situations are detected. The warning signals are sent to the monitoring center, and the warning information and monitoring images are displayed on the management terminal interface. Relevant personnel are also notified through voice prompts.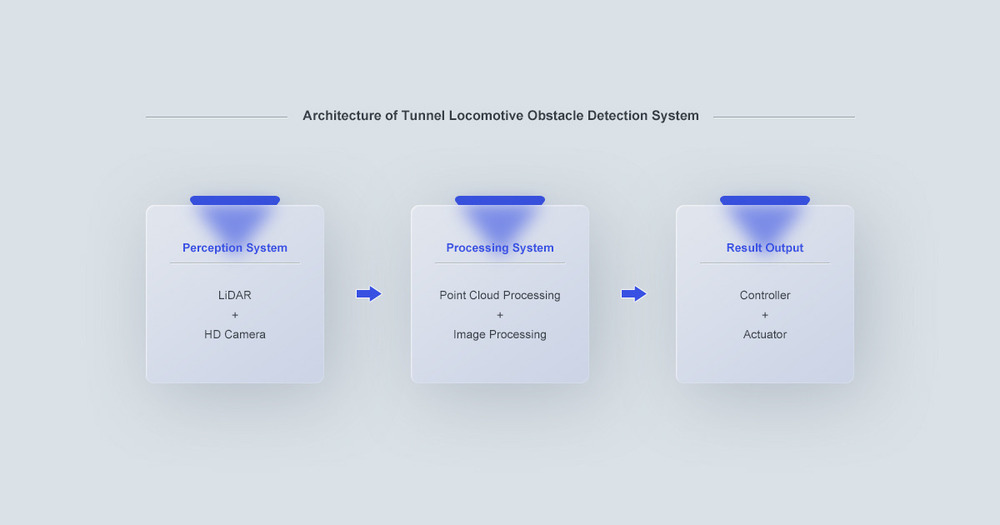 Solution System Architecture
Effects:
1. Improve railway operation safety and reduce the threat of landslides and foreign object intrusion to train safety.
2. Real-time detection system can promptly detect problems and send warnings, helping to take emergency measures and reduce accident risks.
3. Improve management efficiency, reduce the possibility of train delays, and operational interruptions caused by landslides and foreign object intrusion.
---